41 Modern & Abstract Coffee Tables
February 2022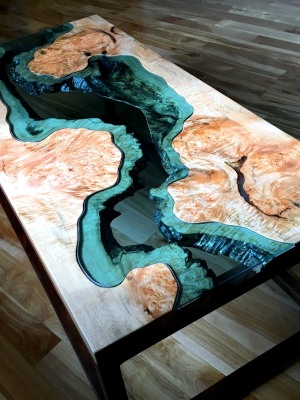 By: WowtheHome Editorial Staff
Updated | February 6, 2022

Every living room deserves a beautiful centerpiece, one that anchors a theme and sets the tone throughout a space. An abstract coffee table is perfect to do just that. Not only can it function as a handy surface area, some are designed in such a way to be showcased as sculptured works-of-art.
Whether you're looking to complement your space with a gorgeous, modern round coffee table. Or perhaps it's a popular, sleek coffee table you're after, there are plenty of ideas here to find that perfect statement piece. Coffee tables of all shapes, sizes and budgets are considered from over 15 retailers to help you find an awesome piece. Every style from modern & contemporary, wood, tree and art tables are covered in our curated collection of 41 abstract coffee tables.
Sleek Coffee Table – Wayfair

A wow-worthy silhouette indeed, this All Modern piece is simplistic yet futuristic in its own right. All while bringing about a certain air of ultra modernism. The waterfall design of this sleek coffee table appears as though it's from a future time.
Available in gold, rose gold, and silver; it displays a two-tone aesthetic with the tabletop and bottom shelf both topped in a black, tempered-glass.
Reclaimed Wood Tree Coffee Table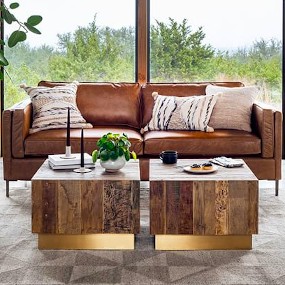 Bring the forest home with Pottery Barn's Brodie 24″ Reclaimed Wood Tree Coffee Table. Featuring reclaimed Elm wood that's been kiln-dried for stability.
The sustainably sourced wood rests atop a stainless-steel base that's beautifully finished in polished brass. A rather nice touch to complement other brass and gold elements throughout decor.
Wood Tree Coffee Table – Wayfair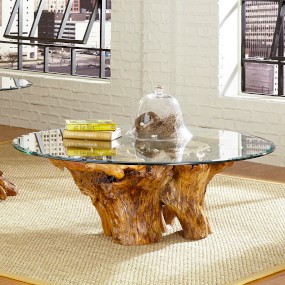 Definitely interesting, uniquely abstract is this wood tree coffee table from Wayfair furniture. Featuring a solid teak wood base with a tempered glass table-top.
It measures 36 inches (91 cm) round and is 20 inches (51 cm) in height. The modern yet organic aesthetic makes it perfectly suited in variety of beach themes as a coastal coffee table.
Abstract Wood Coffee Table – Etsy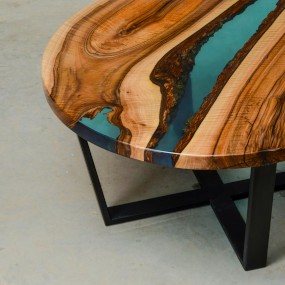 A gorgeous, one-of-a-kind statement piece comes to you from a talented Etsy designer. This round, abstract wood coffee table is skillfully crafted from solid wood (European Walnut) and azure epoxy resin to offer a level of unmatched uniqueness.
Customizable with a healthy selection of different shapes and wood species to suit a range of tastes. Including oak, ash, burl and poplar woods; round, square and rectangular. Pairs amazingly well with industrial themes adding a touch of woodsy elegance. Being that this is a custom made item, you may expect longer than usual shipping times.
Abstract Wood Coffee Table – VidaXL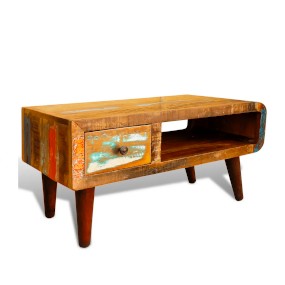 Have the best of both worlds combining rustic industrial charm and mid-modern appeal with this abstract wood coffee table. This curved edged table from VidaXL is made from sustainable, reclaimed wood, and is finished in antique-style weathering for a cute and exotic look.
Every hand-made piece is slightly different with nail holes and clear-faced grains to bring about a unique vintage inspired character.
Contemporary Round Coffee Table – CB2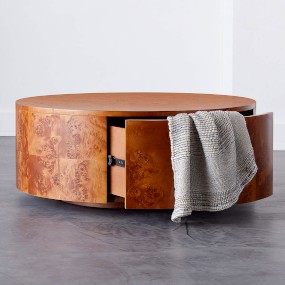 This CB2 exclusive from designer Felipe Hidalgo at Ellenberger Studio is wrapped in gorgeous Italian mappa burl-wood veneers, supported by a solid poplar base.
It features an innovative mechanism, push-to-open drawer design with curved edged, making this a contemporary round coffee table. This reveals ample storage for bedding and other living room necessities, while a round, swivel base enables smooth, 360-degree rotation.
White Abstract Coffee Table – Wayfair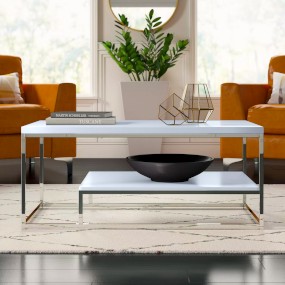 The simple design of the Philippos Frame Table lends minimalist appeal with its basic rectangular shape and cleverly designed storage shelf.
It manages to be cool, elegant and cheap thanks to the attractive price point it's offered at. Crafted from a chromed iron frame and MDF wood with pure white lacquer finish, as well as gray, black and brown. Suitable for a variety of color palettes. The white abstract coffee table is appropriately priced and well suited for contemporary spaces.
Puzzle Coffee Table – Etsy Furniture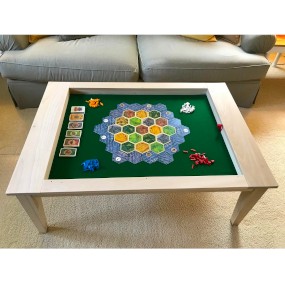 Gather the family around this unique table for some puzzle solving fun! This puzzle coffee table is a handcrafted item from Etsy with a plethora of customization options.
It's shown here as a shadow box, and includes three, felt lined drawers with caster wheels on the bottom for mobility. Choose between a solid wood top or tempered-glass, and your choice of Minwax stains or Benjamin Moore paint colors. Etsy's also home to other awesome custom coffee tables.
Contemporary Round Coffee Table – Target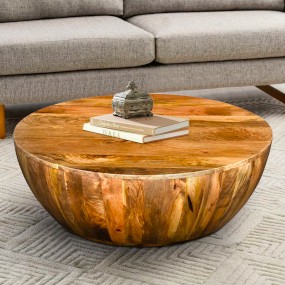 Blending the warmth of rustic charm with chic appeal, this contemporary round coffee table from Union Rustic is handcrafted by expert artisans.
The use of solid mango wood makes every piece unique with its natural grain, wood knots and color variations of rich, brown tones. The smooth tabletop can be used to serve snacks, tea or house your favorite Bohemian decor.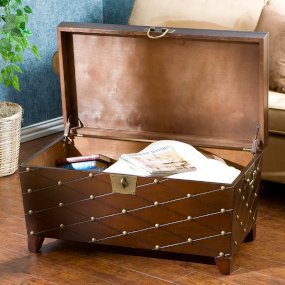 Need a bit more extra room for things like bedding and other knick-knacks? The Cainhoe Large Wood Coffee Table with Storage from Wayfair makes for a sensible option for small-spaced interiors.
It's a modern twist on the old rustic antique trunk, with its espresso finish and ornate antiqued hardware. This table can also function as an ottoman as a cocktail table with serving tray. Would pair nicely with a Farmhouse Chesterfield sofa for an elegant on trend look.
Large Wood Coffee Table – Joss & Main

Need a piece to tie in the organic look that wood offers? How about a large wood coffee table that's hand-crafted and made from all-natural teak wood?
Featuring a cube shape and the natural variations that wood grain has to offer and arrives fully assembled. It's quite solid too, weighing a hefty 105.6 lb (47.9 kilogram) so you won't need worry about it shifting out of place.
Wood Tree Coffee Table – Houzz Furniture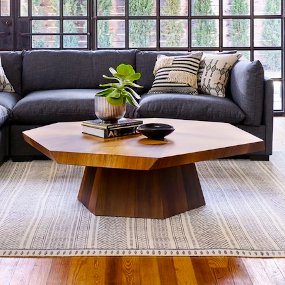 With a unique twist on geometry and asymmetric angles, this wood tree coffee table forms a casual octagonal shape creating a sculptural work-of-art worthy of admiration.
Handcrafted by skilled artisans, the blonde yukas (yucca wood) is smoothed and blended to achieve a refinement with innate depth.
Wood Tree Coffee Table – 2Modern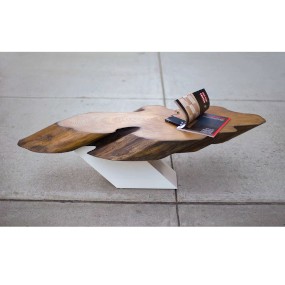 Few pieces can make the claim of a one-of-a-kind design, and the Zora Live Edge Coffee Table from Sentient is no exception to that. This gorgeous, wood tree coffee table is an undeniable statement piece. It's made from a bias cut slab of solid locust wood, easily adding an element of wow-factor to any space.
The top is perched atop a cantilevered pedestal base finished in gloss-white laminate. A wonderfully magnificent piece in its own right that would pair beautifully with modern farmhouse and contemporary themes alike.
Sleek Coffee Table – All Modern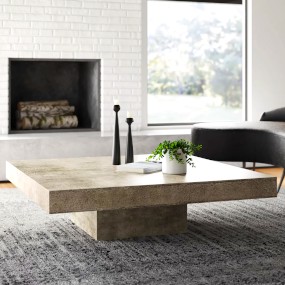 The Victor, sleek coffee table from All Modern Furniture is the perfect addition to concrete & minimalist themed interior spaces.
The top and base are made from an acrylic sealed, fiber reinforced concrete that is finished in dark gray. It measures 43 inches (109 cm) square and is quite heavy weighing 225 pounds (102 kg).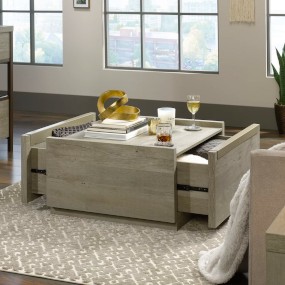 If it's a small-space storage solution you're seeking in a square block style, the Manhattan from Bed Bath & Beyond may tick all the boxes.
Offered in Mystic Oak Gray or Sindoori Mango, it features two sizeable storage drawers with ample room to stuff guest bedding and decorative knick-knacks. Ideally paired in transitional spaces and modern farmhouse themes.
Abstract Art Coffee Table – Lowes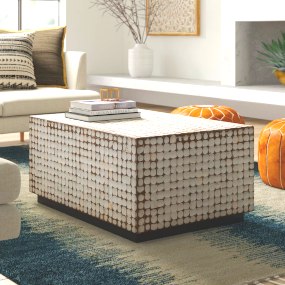 Embracing an eco-friendly approach to furniture making, this East at Main Painted Acacia coffee table is offered at Lowes. It's made in Indonesia from coconut shells to lend a certain uniquely artistic flair.
Each piece is painted and painstakingly fashioned into place to create an intricate mosaic worthy of conversation. Easily moveable and light-weight, its crafted from a solid wood base with no assembly required.
Abstract Coffee Table – Queen LED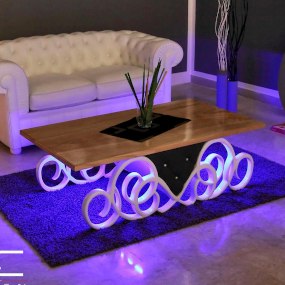 When old furniture starts to lose luster and it's time for an update, consider jazzing things up with the Queen LED, Etsy Coffee Table.
Talented designer Tavoli Cannata from Etsy has crafted a delightful piece, blending traditional scroll work with modern lighting. Made from a Paulownia hardwood tabletop, the Swarovski button tufting on the sides are there to lend a touch of elegance to this abstract coffee table.
White Abstract Coffee Table – Wayfair Furniture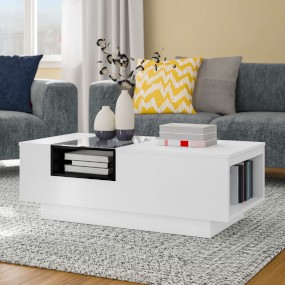 Finished in pure white and black making it the perfect complement for contemporary spaces with an air of minimalism.
This white abstract coffee table from Wayfair Furniture has a few things going for it in terms of small-spaced living. Namely, an artful display shelf that's inset with a glass top. And two boxed shelves on either side of this rectangular table to round out the modern and functional aesthetic.
White Abstract Coffee Table – Wayfair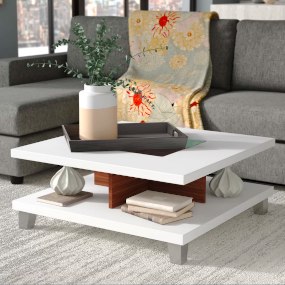 This isn't your ordinary cocktail table for sure. The unusual two-tiered surface connected by a wooden piece has a viewing window for your staged decor, while silver tapered legs lend support.
The Cuffie Cocktail Table with Storage is on the small side at 31.5″ square. Although, this white abstract coffee table having dual surfaces still provides an ample area for living room essentials and decor.
Modern Round Coffee Table – Article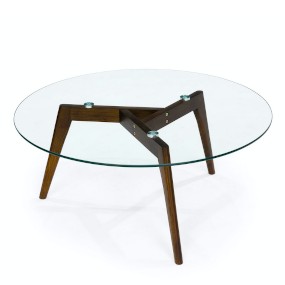 An unusual twist on Scandinavian design, the Clarus from Article is crafted from solid, American white oak finished in a Walnut stain.
Up top, you'll find an 8 mm thick round tempered-glass tabletop. While a bit small at only 31.5″ diameter, this modern round coffee table from Article is a sensible option for those seeking quality on a budget. The modern aesthetic makes it well suited for a variety of mid-century inspired spaces.
Abstract Glass Coffee Table – Overstock Furniture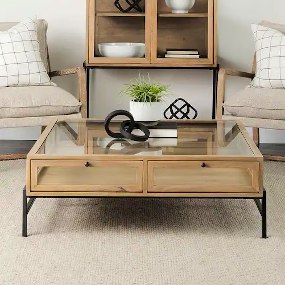 Need the perfect spot to showcase your trinkets, knick-knacks and other prized decor and art? Consider an abstract glass coffee table as they offer plenty of display cabinet space.
Resting atop a black metal frame you'll find a glass display with four bottom-hinged doors. Made from solid mango wood that's finished in a neutral brown with gray undertones.
Modern Round Coffee Table – Terrazzo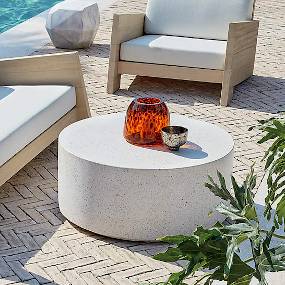 Home to an eclectic collection of furniture, CB2 offers this lovely modern round coffee table in Terrazzo stone. It's outdoor-safe and would look great in a seating area next to the pool, a sun room, and indoor living spaces. Though built to withstand the elements, a snug, waterproof cover is available.
Table Of Contents
Quick Navigation