30 Cozy Country Style Couches
October 2022

By: WowtheHome Editorial Staff
Updated | October 12, 2022

Return to the comforts of home with a homey country style couch. Our curated list showcases an eclectic mix of styles covering everything from the French settee bench to country cottage couches.
Whether it's the charming character of country decor, notably gray and white tones of distressed wood your after, or the convenience that a white slipcovered sofa offers, our curated list of 30 vintage inspired pieces will surely provide some eye candy. Included are country style sofas in l-shaped configurations and functional options such as queen sleeper sofas with a removable slipcover. Have a look at our curated lists on genuine Italian and faux leather sofas for more finds.
Over 15 retailers are considered to find the best country style couches for sale and for every style and budget.
Top 12 Country Style Couches
Country Style Couch – Pottery Barn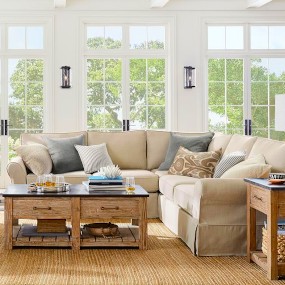 Size: 108″W x 41″D x 37″H
Color Options: 10+
Options: 10+
Part of Collection: Yes
Features: choice of down-blend or memory foam cushions, removable back/seat cushions
When the epitome of comfort is priority, look no further than this Pottery Barn country style couch. It's hard not to find a lounge-worthy spot in your living room to relax on with this piece. With its three layers of padding on the back and arms, this deep seated sofa will have you content in no time.
Customize your cushions with either hypo-allergenic down blend or memory foam support. Take comfort in knowing this white slipcovered sofa was made to Pottery Barn's high standards of manufacturing and made in the U.S.
Charming Rustic & Farmhouse Dining Tables
Country Couch – Three Posts Furniture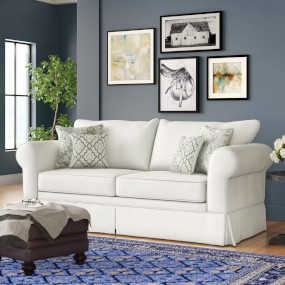 Size: 89″W x 37″D x 40″H
Color Options: 1
Fabric Options: 1
Part of Collection: Yes
Features: reversible seat cushions, includes four toss pillows
This Lawson-inspired country cottage sofa by Three Posts has a clean-lined quality thanks to the tailored aesthetic of its skirt, adding an element of country decor to your space. The Dedrick 89″ Round Arm Sofa features rolled arms and is upholstered in an off-white polyester fabric blend.
Also included for good measure are four accent pillows with trellis and damask inspired design patterns. Handcrafted in America by skilled artisans, this Country Couch is supported by a durable solid hardwood frame. Also included are removable and reversible seat cushions for ease of care and extended life. If looking for a removable slipcover, look below to the country cottage sofa.
Country Sofa – Overstock Furniture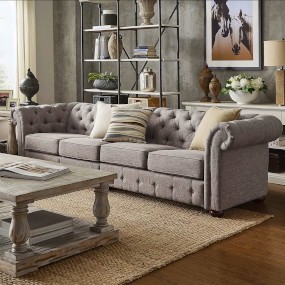 Size: 117.6″W x 37.8″D x 29″H
Color Options: 3
Fabric Options: 2
Part of Collection: Yes
Features: modular design with configuration options, deep seated sofa
A true statement piece to anchor in your vintage farmhouse theme. The Knightsbridge, Country Sofa from Overstock Furniture stays true to the Edwardian originals that have lent its inspiration.
Beautiful roll back design and deep button tufting adds class to any interior space. These cottage sofas feature reversible seat cushions and are encased in either plush velvet or linen upholstered fabrics.
Rustic Farmhouse Tray
Complete the look of country decor with this vintage inspired coffee table tray from Etsy. With over 20 wood finishes to choose from, scoring a custom tailored piece is a breeze.
Cottage Style Couch – Wayfair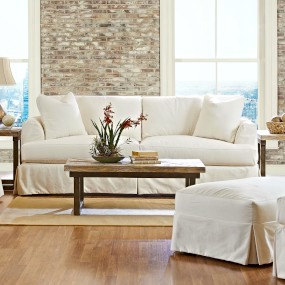 Size: 93″W x 41″D x 29″H
Color Options: 10+
Fabric Options: 10+
Part of Collection: Yes
Features: customizable fabric from Wayfair upholstery, 5 yr warranty on cushions, 1 yr on fabric
Anchor your living space in a shabby chic aesthetic with the Carly 93″ Wide Recessed Arm Sofa. Part of the Wayfair Custom Upholstery collection, it features a removable slipcover for easy cleaning. A skirt for a tailored aesthetic, and removable back and t-shaped seat cushions.
Recessed arms and the two customizable accent pillows round out the tone of this cottage style couch which would pair nicely with a variety of country decor styles. Hand-crafted in North Carolina, it includes a 1-year warranty on fabric and 5-year warranty on the cushions.
French Settee Bench – Kelly Clarkson Home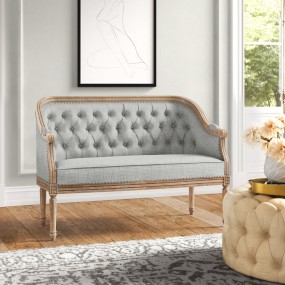 Size: 49.5″W x 26.75″D x 35″H
Color Options: 6
Fabric Options: 1
Part of Collection:  –
Features: distressed weathering for vintage aesthetic, ideal for entryway/foyer
This gorgeous French settee bench has charm written all over it with weathering and distressing, perfectly matching with a range of farmhouse pieces. The Cali Chesterfield 49.5″ Recessed Arm Loveseat by Kelly Clarkson Home blends Chesterfield with French Provincial styles.
This statement piece features scrolled arms, nail head accents and exquisite diamond pattern tufting along its backrest. Easily paired with a range of styles, it provides that touch of elegance to tie in with chic decor.
Country Couch – Crate & Barrel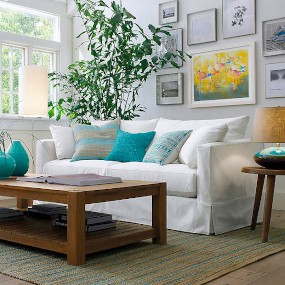 Size: 84″W x 36″D x 34″H
Color Options: 10+
Fabric Options: 10+
Part of Collection: Yes
Features: removable/machine washable slipcovers, 11″ queen-size mattress, pull out couch
Going for a modern, clean-lined approach? The Willow, Queen Sleeper Sofa with Air Mattress from Crate & Barrel is a sensible option indeed. Especially for those looking to furnish their living room with a country couch that turns into a bed for guests.
The 11″ innerspring mattress has an air cushion layer that inflates in just 25 seconds. It features top-stitching, welt detailing and a removable slip cover that's machine washable, making this one savvy queen sleeper sofa. Fabric on these cottage sofas are a blend of 89% cotton and 11% polyester with a 100% cotton muslin base.
Country Style Couch – Overstock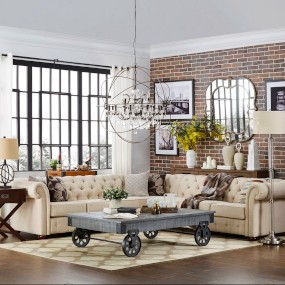 Size: 117″W x 117″D x 29″H
Color Options: 3
Fabric Options: 2
Part of Collection: Yes
Features: symmetrical l-shaped sectional in Chesterfield style
Deck your farmhouse-inspired space in vintage style with the Knightsbridge, Country Couches by iNSPIRE Q. Featuring the classic rolled arms, a button tufted backrest and solid wood bun feet, it bears a symmetrical L design and can seat seven adults comfortably.
Offering plenty of room to enjoy Sunday family gatherings, cocktail parties or a movie-night with friends alike. This elegant sofa country style easily pairs with a variety of decor and is available in 5 fabric options.
Country Style Sofa – Laylaloou Farmhouse Decor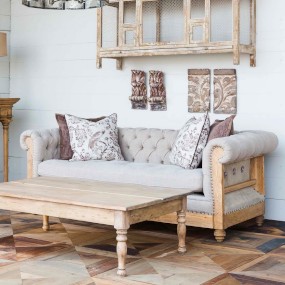 Size: 84″W x 38″D x 30.5″H
Color Options: 1
Fabric Options: 1
Part of Collection:  –
Features: updated Chesterfield with unique design elements, distressed, solid Birch wood
This unique take on the original that inspired it has a level of charm and country vibe that's hard to come by. The Capital Hotel, Chesterfield Sofa from Laylaloou Farmhouse Decor combines an exposed and deconstructed Birch wood frame for a unique design aesthetic.
Button tufted seat cushion, nail head trim and solid wood legs are characteristics that lend an updated sofa country style. The distressed and weathered treatment of its solid hardwood frame offer farmhouse charm to make any shabby space chic and homey. Pick up one of these country style sofas that would pair nicely with a variety of other distressed farmhouse pieces.
Cottage Style Couch From Wayfair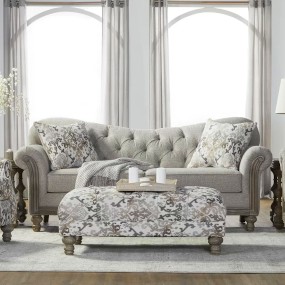 Size: 88″W x 38″D x 38″H
Color Options: 1
Fabric Options: 1
Part of Collection: Yes
Features: reversible seat cushions, budget friendly & affordable
These warm and inviting cottage sofas offer a touch of elegance with their rolled arms and camel back design. The Oakland Rolled Arm Sofa from Wayfair beautifully blends French country style with modern farmhouse appeal.
Featuring a graceful curving back, its accentuated with wood molding and deep tufted buttons for vintage-inspired elegance. For those looking to furnish a farmhouse themed living room on a budget, this cottage style couch is a sensible option to consider.
Country Style Sofa – Wayfair Furniture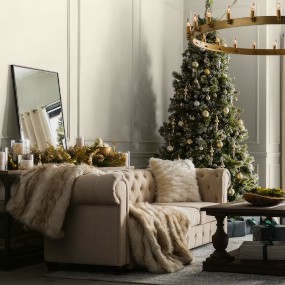 Size: 88″W x 32.5″D x 29″H
Color Options: 5
Fabric Options: 1
Part of Collection: Yes
Features: good value, 1500 lb weight capacity, matching loveseat & armchair
Add an element of charm and character to your living room with this Country Style Sofa from Wayfair Furniture. When it comes to timeless relevance, the ever popular style of the Chesterfield maintains its enduring design.
With its deep button tufting along with its sheltered rolled arms and bun feet, its an iconic style universally reverenced. Upholstered in a quality, linen blend fabric with a solid wood frame construction, it's quality is assured with a weight capacity of 1500 lb.
Country Couch – Urban Outfitters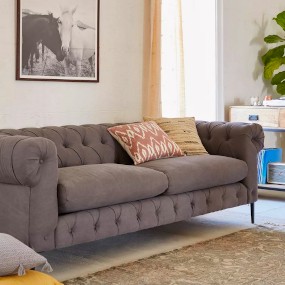 Size: 94″W x 37″D x 30″H
Color Options: 1
Fabric Options: 1
Part of Collection:  –
Features: overstuffed cushions for exceptional comfort
When an added level of comfort is a priority, you want a plush sofa that delivers. Take this Country Couch for example, its over-stuffed cushions and relaxed back makes this one comfy sofa country style from Urban Outfitters.
The country cottage tone is updated with a button tufted armrest wrapped in cotton-polyester blend fabric while resting atop tapered metal legs.
Country Cottage Sofa – Houzz Furniture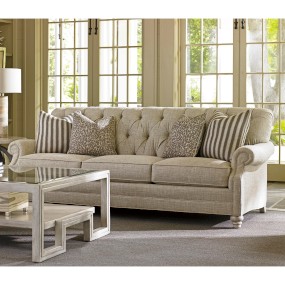 Size: 88″W x 40″D x 35.5″H
Color Options: 1
Fabric Options: 1
Part of Collection:  –
Features: down-blend cushions, contrast welt/piping, relaxed tone
Nothing feels quite as good as returning to the comforts of home. Elements such as button-tufting and turned legs in relaxed shades of gray and ivory, sets the tone for an inviting setting. The country sofa by Lexington Home Brands has a casual country living vibe that would make a great addition for the elegant country cottage theme.
Four lux down throw pillows with contrast welt and ultra down seating offer comfort to enhance personal contentment. Quality materials and craftsmanship has gone into the making of this country cottage sofa.
You'll Also Love These Country Style Sofas
Table Of Contents
Quick Navigation