24 Best Faux Leather Couches That Are Actually Affordable
October 2022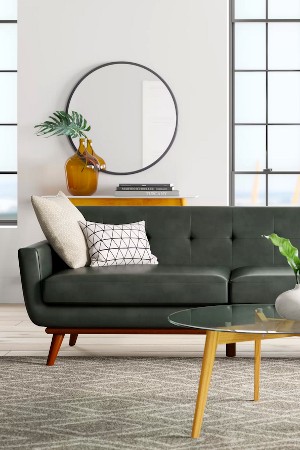 By: WowtheHome Editorial Staff
Updated | October 14, 2022

If you're seeking the luxury of leather on a budget, this collection highlights only the best faux leather couch and vegan leather sofas you can buy. Many can be had at a fraction of the cost of the genuine article. Making them super affordable without breaking the bank, while also being easy to care for and clean.
Leather can make a space feel clean and modern, lending a clean aesthetic often found in high-end designer pieces. You'll find that a best faux leather couch is encased in quality vegan leather, offering exceptional value.
Our curated list covers the bases showcasing everything from the small faux leather couch to the vegan leather chesterfield sofa. And many of these popular, top-rated sofas are reasonably priced under $1,000.
Top 10 Best Faux Leather Couches
Best Faux Leather Couch – All Modern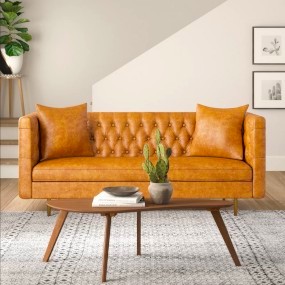 Size: 79″W x 32.25″D x 32″H
Color Options: 2
Part of Collection:  –
Features: appearance & texture of real leather, diamond button tufting
Luxurious timeless aesthetic can be yours with this affordable faux leather couch from All Modern. Featuring a mid-century silhouette encased in vintage-like vegan leather, it's made with all the hallmarks of the genuine article.
Available in tan or gray with diamond patterned button tufting, it's memory foam padded seats will lend a cushy spot to relax on. Two generous sized throw pillows are included with this faux leather couch making this a savvy pick for those looking for value.
24 Lovely Leather Love Seats
Best White Faux Leather Couch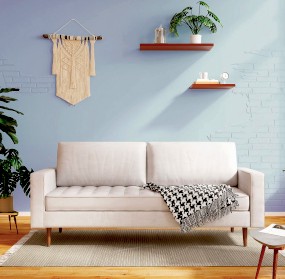 Size: 70″W x 32″D x 33″H
Color Options: 6
Part of Collection:  –
Features: removable back cushions, solid wooden frame, lots of color options
This white faux leather couch is a great option if you're looking for a couch that's both stylish and comfortable. It's made from a water-resistant fabric and has foam cushions for added comfort. Available in a host of different colors, including: grey, white, black, and brown, making it perfect for any room in your house!
It's made with durable materials and hand-stitched edges to give it that extra touch of class. Plus, the wooden frame material has a 600 lb weight capacity to provide you with sturdy support thanks to its double-padded seat cushions made from foam with web suspension technology.
This helps ensure ultimate comfort no matter what activity or position might be required during use. Whether its sitting down to have conversation with friends and family, or for snuggling up for a movie night. A nice little addition is that it includes two matching throw pillows for extra back support when you need it.
Best Blue Faux Leather Couch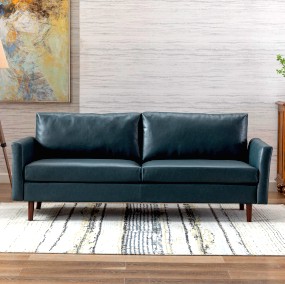 Size: 71″W x 22″D x 18.3″H
Color Options: 6
Part of Collection:  –
Features: welting detail, 6 trendy colors to choose from, subtle mid-mod design
This sofa is perfect for your mid century inspired living room, as it features a sleek design and low square arms that make it one of the most stylish sofas you can add to contemporary spaces. The welting detail throughout provides some old world charm while still keeping up with modern trends.
The solid wood maple legs with a mahogany wood finish give an overall sophisticated and refined look, while the splayed legs and gently arching armrests give off a subtle mid modern inspired vibe.
Soft yet durable faux leather is breathable for comfort that can last all day long, and did we mention it's stain resistant? Yay! Covers for the loose back and seat cushions are removable and use a zipper fastening system. As they are packed with foam and supported by pocket springs, the seat cushions are designed to prevent sagging over time.
Best Modern Faux Leather Couch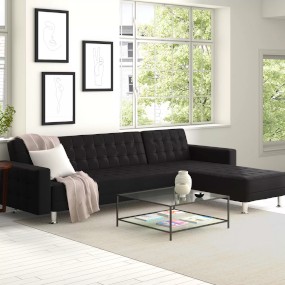 Size: 118.25″W x 65″D x 32″H
Color Options: 3
Part of Collection:  Yes
Features: reversible sleeper sectional, sofa & chaise backs lay independently
Pairing style and function, this reversible sleeper sofa from Zipcode Design is ideal for movie-rooms and game-rooms. Easily converts to a queen-sized sleeper, while offering the versatility of a reversible chaise lounger.
The modern faux leather couch measures just over 118 inches (300 cm). It has ample seating and sleeping space, providing plenty of room for when your guests need place to snooze.
Features button tufted seats and backrests, track arms and cylindrical legs for stylish mid-century modern appeal. Select from popular colors such as black, white and dark brown. A faux leather couch that doubles as a sleeper is an ideal choice if you need an easy-to-clean fabric.
Best Brown Faux Leather Couch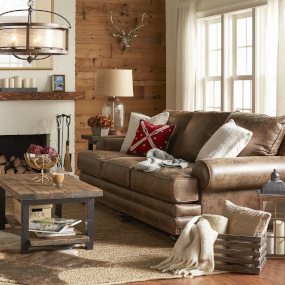 Size: 95″W x 45.5″D x 33″H
Color Options: 1
Part of Collection:  Yes
Features: reversible couch cushions, includes 4 toss pillows
Complement your rustic farmhouse space with the Claremore sofa from Loon Peak. Part of a configurable living room set which includes matching loveseat and ottoman, if you're going for a completed the look.
This brown faux leather couch features reversible cushions, sinuous springs and durable steel wires for exceptional comfort and quality.
Rounding out the look are solid wood bun feet and patina brass bullets. Crafted with mortise and tenon joints for remarkable durability. Four matching throw pillows are included with this vegan leather sofa for added value.
Best Black Faux Leather Couch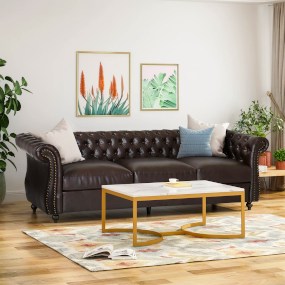 Size: 84.5″W x 34.5″D x 27.5″H
Color Options: 3
Part of Collection:  Yes
Features: scrolled arms, deep button tufts, nail-head accents
If it's an affordable option you're seeking with a faux leather couch, consider this black chesterfield from Houzz Furniture. Featuring all the hallmarks of its Edwardian original, this vegan leather Chesterfield sofa has scrolled arms for a curvy profile, while deep button tufts lend a traditional element.
Nail head trim along the armrests and turned legs complete this sofa's elegant appeal. At a fraction of the cost of a real leather couch, this Chesterfield is well-priced at under $700.
Best Faux Leather Sofa Set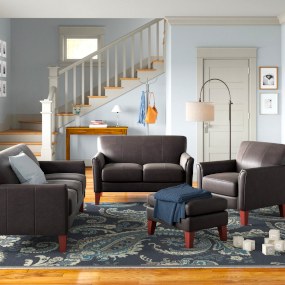 Size: 75″W x 33.75″D x 34″H
Color Options: 1
Part of Collection:  Yes
Features: set includes: sofa, loveseat, armchair & ottoman, removable cushions
A remarkable value for those looking to take the guesswork out of matching pieces and furnishing a living room on a budget. The Abarca 4 Piece Living Room Set from Andover Mills includes a sofa, loveseat, club chair and ottoman for a remarkably affordable price.
The versatile aesthetic pairs well with a variety of styles including mid-century modern, farmhouse and contemporary.
The perfect addition to apartment living rooms, condos and other small-spaced interiors. It features a frame crafted from rubber wood and faux leather upholstery for easy cleaning. The faux leather sofa set is super easy to assemble and has removable cushions to make clean-ups a breeze.
Best MCM Faux Leather Sofa Set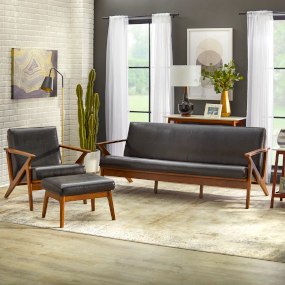 Size: 72″W x 33″D x 29.5″H
Color Options: 1
Part of Collection:  Yes
Features: iconic mid-century design, matching armchair & ottoman available
Sit back and relax in style with these handsome faux leather sofas. This popular, vintage inspired design stays true to its Scandinavian roots. Perfect for mid-century inspired interiors, it's crafted from a solid rubber wood frame.
Available in two color and fabric options; sued-ed camel brown and smooth black faux leather. The solid wood's finished in a rich walnut offering a handsome, two-tone appearance. These mid century modern faux leather sofas couch work well in small-spaces measuring at only 72 inches (183 cm) wide.
Best Mid Century Modern Faux Leather Sofa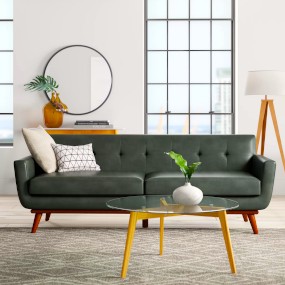 Size: 90.6″W x 35.25″D x 33.9″H
Color Options: 1
Part of Collection:  Yes
Features: light leather distressing, vegan leather, solid wood frame
Taking on a classic mid-mod look is a vegan sofa from All Modern with an eye catching two-tone appearance. A high quality, solid rubber wood base supports this sleek and modern faux leather sofa, while cushioned arms provide ample support.
It's encased in "Eco-leather" upholstery which means it's manufactured with minimal environmental impact while still being 100% synthetic. A dense high-quality foam and button tufted backrest provide both style and comfort.
This mid century modern faux leather sofa measures 78.75 inches (200 cm) in width by 35.25 inches (89 cm) deep by 33.86 inches (86 cm) in height.
Best Modern Faux Leather Sofas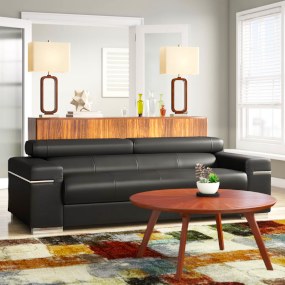 Size: 86″W x 40″D x 36″H
Color Options: 3
Part of Collection:  Yes
Features: adjustable headrests, available as 3-piece living room set
With its clean-lines and sleek metal, this stylish sofa from Wade Logan offers a modern designer look for a fraction of the price. It's fairly priced given that the seat cushions, headrest and armrests are all made from quality faux leather. While the rest, the back, sides, etc. are all bonded leather.
It features adjustable back panels for an added element of comfort while the web suspension seat construction provides plenty of support. The Orlando vegan leather couch is part of a collection that includes a matching sofa and armchair, sold separately.
Best Faux Leather Couch 3-Piece Set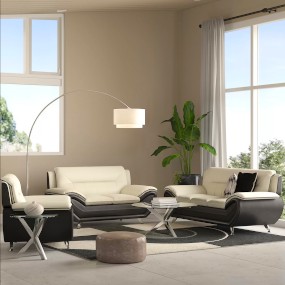 Size: 79″W x 34″D x 35″H
Color Options: 3
Part of Collection:  Yes
Features: affordable leather couch, compact size ideal for small spaces
Another contemporary design by Orren Ellis, the Jasmin vegan leather couch is very affordably priced. Sleek and sophisticated, these 100% faux leather sofas feature splayed chrome legs for a refreshed mid-century vibe.
This set includes everything you need to create your modern living ensemble including a vegan leather couch, loveseat and matching armchair.
Select from either a two-tone black and beige, gray and black or red and black. This is definitely a nice little living room set for the price. Also, available as a 2-piece living room set, which includes just the sofa and matching loveseat.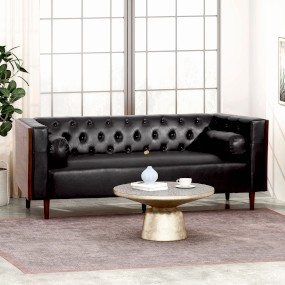 Size: 90″W x 32.5″D x 31″H
Color Options: 3
Part of Collection:  –
Features: wood panels on the exterior make it unique, two round toss pillows are included
This is the perfect addition to any home. This three-seater vegan leather sofa is designed with the modern trendsetter in mind. Featuring clean lines of wood paneling on the sides, solid wood legs, and smooth leather upholstery accented by rolling cylinder pillows for extra comfort.
This piece will surely become your favorite seating space; perfect for lounging, conversing, and binging your favorite TV shows.
It has an exquisite diamond tufted pattern along the backrest and inner sides and is available in three classy hues, including cognac brown, dark brown, and midnight black. This tuxedo arm sofa has a generous 700 lb weight capacity thanks to a frame made from solid wood.
Two cylindrical toss pillows are thrown in for good measure. The gorgeous wooden panels on the sides of this sofa really do make it uniquely different, as it stands out over the crowd of other mundane pieces we usually see.
Best Chesterfield Faux Leather Couch

Size: 78.75″W x 33.5″D x 28″H
Color Options: 3
Part of Collection:  –
Features: generous 900 lb. weight capacity, removable seat cushion, unique wood paneling
A timeless centerpiece that can be a lovely addition to any living room, this chesterfield inspired three-seater sofa is the ideal piece to transform your interior space. It exudes a classic design and traditional elements such as deep button tufting, scrolled rolled arms (with nail-head accents), and plush upholstery.
What really sets this piece apart from the rest is the gorgeous wooden accents that are featured along the front and sides of this couch.
The streamlined statement piece also comes complete with plush upholstery made from high quality materials, making sure every minute detail has been considered. From its sleek lines down to the beautifully turned legs made of solid birch wood.
Select from three sophisticated colors: cognac brown, dark brown, and black. We also like the fact that it features an elegant diamond tufted design around the backrest and inner sides.
Best Faux Leather Sectional Couch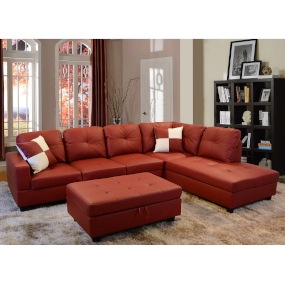 Size: 103.5″W x 74.5″D x 35″H
Color Options: 10+
Part of Collection:  Yes
Features: faux leather sectional includes ottoman with storage, toss pillows, lots of color options
This faux leather sectional couch with matching cocktail ottoman features a storage compartment for when you need a place to keep your linens handy.
Select from a variety of 14 different colors to match your living space and choose between either left or right-hand facing orientation.
This corner sectional is encased in a faux fabric made of bonded leather. While not technically a sleeper, the ottoman can be pushed against the sofa to provided additional space to sprawl about. Two throw pillows are included with this piece.
You'll Also Love These Vegan & Best Faux Leather Couches
FAQ & Guide to Faux Leather Sectionals & Sofas
What to look for in a faux leather couch
When shopping for a faux leather couch, there are a few things to keep in mind. First off, you may want to consider the color and style of the couch.
You may also want to make sure it coordinates with the rest of your furniture, decor scheme and fits your personal taste. Second, think about the couch's construction.
You'll want to choose a couch that is well-made, durable and will last for many years to come. Keep in mind that most online retailers will post specifications such as materials used and the weight capacity.
Consider reading through some customer reviews, while it's true there are many false reviews out there (both good an bad), you can still get an idea from others whether that particular piece of furniture may be a good buy.
Finally, take into account the price of the couch. These pleather couches can range in price from affordable to quite expensive, so it's important to set a budget before you start shopping.
What are the benefits and drawbacks of faux leather furniture?
Benefits
First and foremost, price. You can get the clean modern look that real leather provides for a fraction of the cost. It's typically much cheaper for manufacturers to produce this type of upholstery.
It's low-maintenance and easier to clean than most other fabrics due to the fact that it has a smooth surface. Just wipe with a clean damp micro-fiber cloth.
As many faux leathers are getting better in quality, most faux these days are made from a breathable material called poly-urethane. This makes for a material that's not only breathable, but soft and supple to the touch, just like real leather. Pleather made from vinyl should be avoided. As vinyl is not breathable and can get hot and uncomfortable to sit on. On the listings' specifications, look for PU (poly-urethane) under " leather type", these products are not vinyl.
Faux leather couches have a number of benefits over real leather couches. Namely, they are usually vastly more affordable than real leather couches, and they are generally easier to care for and maintain than real leather couches. Additionally, they're more versatile and can be used in a variety of settings. You may think that imitation leather can be quite a cold surface to sit on. You'll find that most synthetic materials are actually quite comfortable to rest on for extended periods. With the proper care, and research on what types to look for and avoid, synthetic leather can be a sound option for a variety of settings.
Drawbacks
While there are many benefits to owning a faux leather couch, there are also some disadvantages. Some people believe that fake leather doesn't look quite as good as real leather.
Real leather has a certain feel lacking in most pleather. Further, these materials may not be as durable as the real McCoy and may actually be more prone to showing wear and tear over time.
If you have large dogs or kids that get a little rowdy around the house, it can be costly and difficult to repair damage to faux fabrics. Lastly, some people simply prefer the look, feel and smell of real leather over synthetics. Fake leather can be a sound option for a variety of settings.
Although manufactures are using the more durable and breathable poly-urethane vs vinyl, they are still prone to scratching and staining. If your furniture has a lot of traffic from pets and small kids, there may be better upholstery options such as top-grain leather.
Vinyl, a type of faux leather, should be avoided as a material for furniture. This material is much less durable than polyurethane and can get quite hot as it doesn't breath.
In the case of bonded leather, it does not hold up very well when temperatures are kept too low in the home. In this case it becomes prone to cracking.
How do I care for faux leathers and can I use cleaning products specifically made for genuine leather?
Because most faux leather sofas have a poly-urethane coating on its surface, products for real leather based on waxes and oils should be avoided.
They can actually cause wear and damage to most PU coatings. When necessary, dust with a damp, lint-free cloth such as micro-fiber. Then apply a faux leather protector every 3-6 months. This will help prolong the life of your faux leather furniture. See this helpful cleaning guide for more information.
How do I select a best faux leather couch?
If you decide to opt for faux, it's important to know key differences between furniture labeled as faux, bonded, and genuine leathers.
Bonded and genuine leathers are typically a combination of both real leather and synthetic materials. While bonded fabrics can have much less organic matter than those labeled as genuine.
If you want to avoid furniture made from animal products, you should exclude listings that say bonded, genuine, top-grain & full-grain leather in the specifications section. Keep in mind that some listings will have both faux and bonded leather in the description. These types of furniture should be avoided as well if you're going for 100% vegan.
Table Of Contents
Quick Navigation